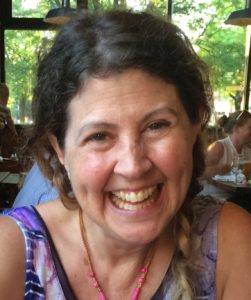 As a child I fell asleep listening to the distant sounds of trucks passing through Illinois summer nights. I'd wonder who drove those trucks and where they were going. There would usually be a flashlight and a book or a hand-written story under my pillow. Wanderlust, writing, and imagining other people's lives have influenced my own life ever since.
In the early '90's, with the lofty intention of traveling the world, and a specific craving to see firsthand how the threads of culture and daily life weave different patterns into people of different countries, I set out alone with a one- way air ticket. First stop: Seoul, South Korea, last stop … TBD.
A 22-year layover in New Zealand didn't dampen my love of America OR the curiosity OR the wanderlust—if anything Life, overall, has probably intensified the wish to cram my remaining years packed full. Fortunately, I now share my years and travels with my husband. His name is Alistair, he's from New Zealand, and I call him Bob. I also consider him, beyond a doubt, the best man the world could have offered. We share our home with one cat, Dame Pistachio (aka Dame P or The P). Of Russian ancestry and insatiably curious, Dame P, sadly, has yet to develop our love of going places. We're working on that.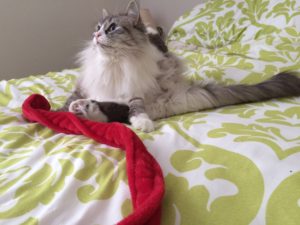 My writing since those long-ago pillow and flashlight days has, arguably, matured. There are no more stories mimicking Honey Bunch and her travels (yet!), but there is a skinny trail of my work published in the U.S., New Zealand, and Australia, some of which actually won awards.
More important to me, having returned to my earliest love of creative and fiction writing, is the theme I discovered with the help of someone in my writing group. This theme of ordinary overcoming runs through my past, current, and upcoming work: people on this planet and how we live!
So, I'll be sharing writing—my own and others'—that is quite different from what, for years, became ads for clients such as the New Zealand Police, McDonald's, and MasterCard, non-fiction essays for national and community magazines, submissions to the New Zealand government on health and family issues, and website content for clients ranging from a Vietnamese orphanage to a northern Illinois horse ranch. In the not-too-distant future, with a dollop of luck, I'll be sharing my new novel, a family drama called, "My View of the Bright Moon." (More on that later!)
Despite being that kid who hid behind the parted curtains of her hair, I also was that kid who carefully rode my tricycle around ants on the sidewalk and approached any new or lonely kid on the playground. As I grew out of my own angst, I became more and more drawn to developing a community of positivity. My favorite contracts while I was free-lancing involved research and writing for New Zealand's Mental Health Foundation, an evaluation of scholarship training work for indigenous Australians, and an evaluation of a small equine-assisted therapy business in New Zealand. Prior to all this, I earned my Masters Degree in Applied Social Science Research with my thesis exploring what builds self-esteem in young children (it was utterly fascinating to learn about early experiences and brain development).
Here's a quick writing-related highlight that arose during the long nights of finishing my thesis: I'd written a several page love poem called, "Questions of Love." (About Tigger and Eeyore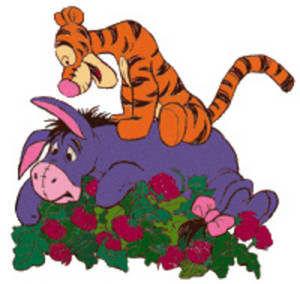 overcoming other people's skepticism.) Dressed in wet jeans—having just spilled a cup of tea in my lap—I performed it to an audience of strangers in a drafty, dim hall. Afterwards, as I made a bee-line to the exit, a stranger rushed to stop me and asked if I'd allow National Radio (New Zealand) to produce the poem. I had the thrill of helping cast and narrate the production.
Other more serious 'life highlights' I'll always treasure, include:
In New Zealand: helping to raise awareness of the link between family violence and animal abuse, both at conferences and as a national spokesperson; and working as a researcher to assess the recovery of sexual abuse survivors.
In Calcutta: volunteering with Mother Teresa, in her orphanage, in her home for the Sick and Dying, and with street kids whose homes were cardboard boxes under the Howrah bridge.
In Chicago: facilitating a support group for high risk and abused children through Child Abuse Prevention Services.
Over the years, there have been moments, days, months, of every emotion a person can feel … incidents and relationships that lifted me up and those I was sure would crush me. This bio page features highlights. The blog is much more … a place where I hope everyone can recognize some of their own past or present challenges and crushing or crazy-good moments.
I'd be so delighted if each of you reading this, wherever you are, stay with Ordinary Overcoming; read how others have dealt with an issue or event and become willing to share your own Ordinary Overcoming story. Story by story, let's be part of creating stronger, happier people and communities, all over this messy, wacky, wonderful world.